Randy Crane
What is your favorite destination?
I have so many; nearly every place I have been has been special to me for some reason. I would have to say my favorites, though, are any DISNEY destination. After that are the Mexican Riviera, San Diego, the Orlando area--all the way out to the Kennedy Space Center, the Caribbean, and the mountains.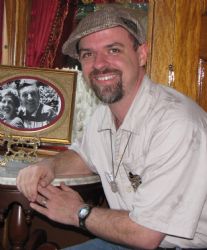 What are your favorite things to do while on vacation?
It really depends on the destination. On my various vacations, I've enjoyed swimming with dolphins, playing with wolves, parasailing, visiting parks & museums, hiking, relaxing, trying local foods, and of course theme parks--Disney theme parks in particular. In all of those places, I have to have my camera!
Why are you interested in travel?
I've always loved going new places--and revisiting beloved favorites. I am often the go-to person for many of my friends' and family's travel questions (especially Disney questions), and I greatly enjoy planning vacations for my wife and me. Even when at Disneyland, somehow people with questions seem drawn to me for answers and advice, and I've discovered that I enjoy helping others get the most out of their vacations as I do living my own.
What is your dream vacation?

What do you like best about working with CruisingCo.com?
If I am going to be affiliated with a company, I make sure it's one that allows me to provide the best possible service to my clients. CCE/MEV is just such a company. This is such a great group of people, with a love for travel and for helping others. And our experience, tools, and resources, such as the Signature Travel Network, allow us to truly offer one-of-a-kind vacation experiences to our clients.