Susan Diamond
What is your favorite destination?
My favorite destination to visit is anywhere that a Disney cruise ship would take me! I love tropical vacations and prefer the Eastern Caribbean. I love Florida and the Bahamas. I have also very much enjoyed trips to Canada and Europe.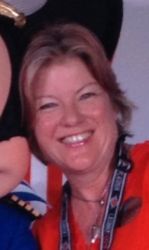 What are your favorite things to do while on vacation?
My favorite thing to do on vacation is to relax and read on the beach or on the deck of a cruise ship! I love snorkeling and swimming and other activities, but usually, on vacation, I like to relax and also spend time at the spa!
Why are you interested in travel?
I have been fortunate to have traveled all my life. It is what I look forward to most and enjoy planning the most. I love the anticipation of travel and then the travel itself. I love, love going to the Disney parks and especially on Disney cruises! I have been on 16 Disney cruises and can not wait for the next one!
What is your dream vacation?
My dream vacation would be to go to Disneyland, cruise to Port Canaveral and go to Disney World. Then, cruise across the ocean to Europe and go to Disneyland Paris. Then cruise the Mediterranean on Disney Cruise Line and experience Venice and Greece! That would be amazing!
What do you like best about working with CruisingCo.com?
I would say working with people who share your love of travel and being able to spend each day helping people plan magical vacations that will provide happy memories for a lifetime!