Clarissa Fuentes
What is your favorite destination?
Chiapas, Mexico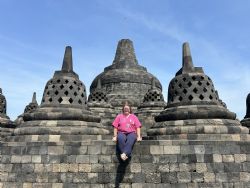 What are your favorite things to do while on vacation?
explore, take public transportation, read, meet new people, try new food, learn new languages
Why are you interested in travel?
My worldview and experience was once so limited, until I began to travel and understand where others come from. Travel has opened a world of possibilities for me and my family and has made us more empathetic and compassionate individuals.
What is your dream vacation?
My dream vacation is to Ireland and Scotland. I would love to travel to old Celtic monasteries and labyrinths, spend quiet time exploring the ruins and visiting places from my studies. In the afternoon and evenings however, I would love to soak up the local culture at small inns and pubs in the countryside.
What do you like best about working with CruisingCo.com?
I like having nearly endless possibilities at my fingertips for planning unforgettable vacations for my clients. I love including elements that make it just right for each individual in the party.