Pam Schuck
What is your favorite destination?
I personally like cruising and the destinations vary for me. It all depends on if I want a warm climate and beaches or the beauty and history of a European River Cruise down the romantic Danube River. Ocean cruises offer so much to see and do so it is great for multi-generational cruisers traveling together! If you want a high energy vacation or even just a few days at a slower pace it does not matter. An ocean cruise offers it all. For those of you that are looking for a more personal-all inclusive, luxury filled experience - consider a River Cruise! An added benefit of River Cruising is that you are surrounded on all sides by hundreds of years of history as you sail down the river! River cruising is totally different from ocean cruising because you travel through the heart of the region you're visiting with sheer beauty on all sides of you. Sail past castles and historical sites and towns and cities along the way. Your ship will pull over to the river's edge and deposit you within steps from the sites you are visiting. No time spent in line waiting to go on shore because River Cruising only sails with small numbers of guests like 125 passengers. Passengers to crew ratios are just about equal so River Cruising is always an incredible experience! Land tours are included and the food and drink are exceptional with meals prepared that represent the area you are visiting. If you are interested in something totally different for your family vacation." Disney partnered with AMA Waterway and offers some great River Cruising packages geared to families of all ages and you know that Disney is known for their family friendly vacations and experiences. If you are looking for a vacation in the theme parks filled with rides and shows and adventure Disney is always a great choice and Universal is growing at a huge pace and offering more and more rides and attractions and resorts. If you are a Harry Potter fan you have to experience Universal. Both destinations are an incredible experience. So as you can see, I have many different destinations I love. It is too difficult to pick just one. Let me help you plan the perfect vacation today!!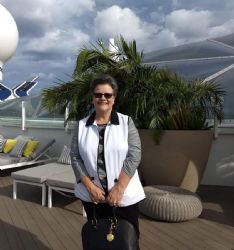 What are your favorite things to do while on vacation?
I love to dine in new restaurants and experience the different cultures and of course shopping is pretty high on my list of priorities! I enjoy going to shows that ocean cruises offer onboard. The entertainment is always upbeat and entertaining and you take home so many wonderful memories that last a life time. Port excursions and tours are among my favorite activities. It is a wonderful way to immerse yourself into what the area has to see and offer from swimming with the dolphins to the intricate castles and the Vatican in Europe, every port has its unique offerings.
Why are you interested in travel?
I feel the travel industry is a fascinating industry and I want to assist clients in putting together their perfect vacation. I know how important their time off means to them and how every minute of that needed vacation time with family is so very precious to them and their happiness is my number one goal.
What is your dream vacation?

What do you like best about working with CruisingCo.com?
I like working for CCE/MEV because I have the freedom to take care of my clients my way and give them the top notch service they expect and deserve. For your future dream vacations, I am here for you every step of the way and look forward to working with you on your next adventure! I want to be YOUR Personal Memory Maker!