Char Berger
What is your favorite destination?
Venice, Greek Islands, Paris, Amsterdam, Alaska, St. Martin, Fiji... Sunny climates always are a draw, but our recent trips to Turkey, Italy, Australia, New Zealand, and Europe have us exploring many parts of the world and working on our list of "must see" destinations.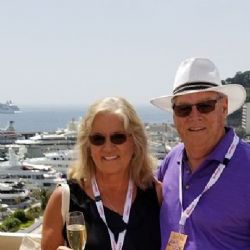 What are your favorite things to do while on vacation?
Relaxing and soaking in a new destination, exploring how the locals live and sitting in small cafes people watching. I also enjoy water activities (kayaking, snorkeling, reading, floating on an air mattress, boating, wine tasting, walking tours).
Why are you interested in travel?
I love seeing and experiencing the history, culture and way of life in each destination that we visit. The excitement of seeing new places or returning to a favorite haunt never ends! Planning and designing each adventure is a never ending joy, almost as much fun as the trip itself.
What is your dream vacation?

What do you like best about working with CruisingCo.com?